The end of the school year brought the end of a 23-year era of Dave Bechler as Athletic Director for EMS.
"More than two decades at the helm of middle and high school athletics is highly unusual," noted Paul Leaman. "We have been blessed by Dave's long-term commitment to our school and students."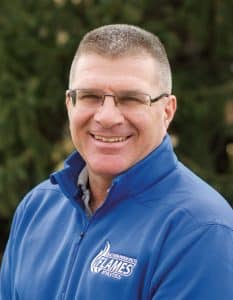 That blessing has extended beyond the school's walls to the local area, regional and state levels where recognition came from the Blue Ridge Conference, Virginia Independent Conference and Virginia Independent Schools Athletic Association (VISAA) this spring.
At the state level, Dave served on the VISAA Executive Committee for 14 years (2004-2019), the state boys soccer committee for 13 years (2005-2019) and the state boys basketball committee for 10 years (2009-2019). He was also voted VISAA Athletic Director of the Year in 2013.
Dave served as president from 2005 to 2019 for the VIC and BRC where he was:
#1 in all-time career wins (boys basketball)
22 years as head varsity basketball coach
341-291 career record
Nine-time VIC Coach of the Year
RECOGNITION BY COLLEAGUES
Earlier this spring at a K-12 faculty and staff spring recognition celebration, long-time colleagues Kendal Bauman and Jennifer Young shared reflections about Dave's impending departure.
Full of laughs, it was also a time to shed some tears. Anyone who has worked with, or played for, Dave knows he has a soft heart.
"I've been crying all week," Dave confessed, leading up to the faculty recognition. "This stuff is hard, but it's all good."
Find an article and view a video of the presentation at easternmennonite.org/about/news "
And … the most important of all the things Dave has done," noted Bauman. "He has mentored approximately 45 middle school, 42 JV and 73 varsity coaches; that does not include assistant coaches. He has touched so many athletes through our coaching staff with the philosophy of competing at a high level, but maintaining excellent sportsmanship."
FACILITY CHANGES AND PROGRAM UPGRADES UNDER DAVE'S LEADERSHIP
Outdoor Facilities:
Creating new athletic fields (softball, baseball, soccer)
Dugouts (softball, baseball)
Scoreboards (all fields)
Soccer kick walls
Ballards to protect fields
Resurfacing the tennis courts
Field maintenance equipment
Outdoor concession stand
Bleachers
Athletic field maintenance including irrigation
Indoor Facilities:
Batting cage
Basketball Shooting machine
Weight room (2016)
Gym renovations including replacing the rubber floor with hardwood, new lights, bleachers, and paving the gym parking lot
Support for foyer renovation
Floor system for side volleyball courts
Sports Added:
Softball, girls soccer, JV tennis, golf, swim club
Middle school sports (soccer, track, volleyball, basketball, cross country)
Other Items:
Hiring an athletic trainer
JMU Concessions to help pay for athletic uniforms
Transportation upgraded for athletic teams to mini buses and larger buses
Continued support of the Athletic Booster Club
Instrumental in getting the girls sports programs into the Blue Ridge Conference (2001), where they could compete for conference and state titles
Moved the cross country invitational from Eastern Mennonite University to Peak View in 2002 (oldest and one of the largest races in VA)
Started the Menno (2004) & Flames (2016) Classic soccer tournaments
Flames Tip-Off basketball tournament (1999)
EMHS Volleyball Jamboree (2008)